Enrol now for the Colac Otway Shire Council election
August 8, 2020
A general election will be held by post this October for Colac Otway Shire Council.
The Victorian Electoral Commission is preparing to deliver a safe election during the extraordinary circumstances of the coronavirus (COVID-19) pandemic.
The Colac Otway Shire Council election will be conducted by post – a safe and completely secret method of voting.
Electoral Commissioner Warwick Gately issued a call to Colac Otway Shire residents and ratepayers to be ready to have their say.
'Make sure you're enrolled correctly by the close of roll, which is 4 pm on Friday 28 August. As this is a postal election, it's important to check your address details are correct – this includes any alternative postal address,' said Mr Gately.
'If you're an Australian citizen and you've recently turned 18 or moved, and you haven't enrolled or updated your address, or if you've just closed your post office box with Australia Post, you can enrol or update your details online at vec.vic.gov.au/enrolment.'
Non-Australian citizens who occupy and pay rates on a property or business in Colac Otway Shire, or people living outside Colac Otway Shire who pay rates for a property they own in Colac Otway Shire Council, can apply to the Council to enrol by calling (03) 5232 9400. Non-resident owners who were enrolled at the most recent election (including any by-elections) for Colac Otway Shire Council will be automatically enrolled. Applications close at 4 pm on Friday 28 August.
'Voting in local council elections is compulsory if you're a State-enrolled voter, and we encourage council-enrolled voters to vote.
'Your local council makes important decisions about your community facilities, services and local business community, so it's important to have your say by voting in this election,' Mr Gately added.
Voters who will be away during the election period can have their ballot pack redirected to an address of their choice by making a request in writing by Thursday 17 September.
Timeline for the 2020 local council general elections
4pm Friday 28th August – Close of roll
Voters must be on the voters' roll by this date to vote at the election
9am Thursday 17 September – Nominations open
Candidates must nominate with the Election Manager
12 noon Tuesday 22nd September – Close of nominations and ballot draw
Candidates must nominate by 12 noon. The ballot draw occurs after this
Tuesday 6th to Thursday 8th October – Ballot packs are distributed
Ballot packs distributed via post to every person on the voters' roll
6pm Friday 23rd October – Close of voting
Ballot papers must be in the mail or hand delivered to the Election Office by 6pm
Saturday 24th October – Election Day
The day prescribed as Election Day
12 noon Friday 30th October – Final day for receipt of mailed postal votes
Postal votes must be received by 12 noon to be considered. The Election Manager will include ballot material if satisfied it was signed by the voter before 6 pm on 23 October (close of voting).
Friday 13th November – Latest date all results will be declared
The VEC publishes the election results on the VEC website by this date.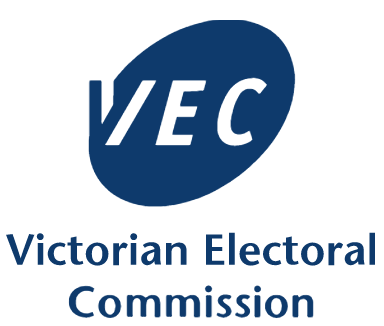 More Information
More information is available by calling 131 832 or at vec.vic.gov.au, where State-enrolled voters can also sign up to the free VoterAlert service to receive important election reminders by SMS and email.