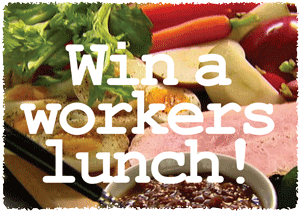 Every week the Apollo Bay Bakery is giving away a free worker's lunch to the value of $15 to any business with a paid listing on the Community Website.
The draw will be conducted each Monday and the winners notified and published on the Website.
So make sure your listing is up to date and paid for on Apollo Bay's most popular information site and remember your listing also includes acknowledgement on our Community Radio 3ABR.
The Community Website attracts an ever increasing number of visitors every month and it does so because the information and news on the site is current. Keeping that way doesn't cost a lot, but we can't do it for free.
Whether you take the basic listing or something with more impact, the site not only helps people find you but also keeps the community and visitors informed in a way that Facebook cannot.
List your business now or contact us by This email address is being protected from spambots. You need JavaScript enabled to view it. or phone 0417 582 407 for more information.
Make sure YOUR Business Listing is up to date ready for next week's draw.