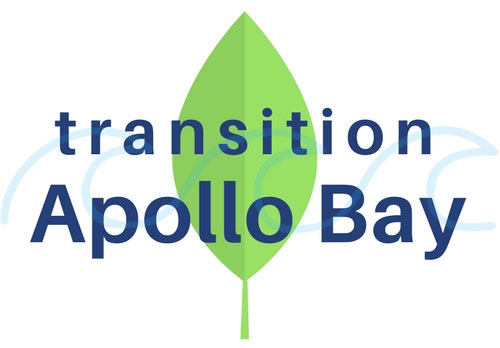 Transition Forum – THIS WEEKEND
1 May 2018
With only a couple of days to go before the Transition Forum on Sunday, its timely to reflect upon the reason this is happening and what Transition is all about.
Apollo Bay has joined the transition movement! Simply explained, "transition" refers to grassroots community projects that aim to increase self-sufficiency to reduce the potential effects of peak oil, climate destruction, and economic instability.
Whilst there is already so much happening on an environmental and social level in our town, there is scope to find ways of becoming more efficient, more potent, more creative – and using our collective resources to ensure that our efforts are not in vain.
This weekend's forum will look at future pathways for Apollo Bay. The agenda will be to discuss what Apollo Bay is already doing well, map gaps and future possibilities and share ideas. It is envisaged that the discussion will be based around a number of themes, which might include food, energy, information management and economic diversification, but It is possible there will be other topics raised and discussed. If you're excited about something or have an idea – we want to hear it!
If you'd like to come but haven't RSVP'd, you will still be welcome, but please let us know as soon as possible for catering and seating purposes.

Where: Apollo Bay Community Centre
When: May 6, 2018 from 11am – 3:30pm.
RSVP: This email address is being protected from spambots. You need JavaScript enabled to view it.
Or call Janette 0438 397 020
To keep in touch with what's happening with Transition Apollo Bay or to find out how you can be involved, send your details to This email address is being protected from spambots. You need JavaScript enabled to view it. to join our mailing list, "Like" our Facebook page @transitionapollobay, look out for us here on the Apollo Bay Community Website or in the Apollo Bay News.