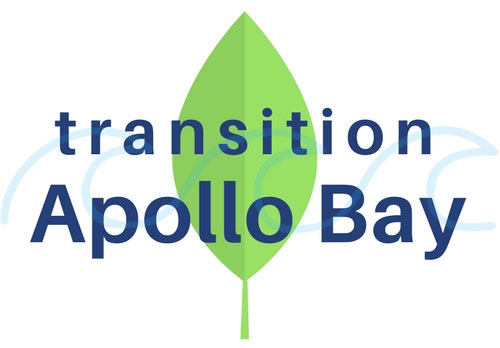 Transition Apollo Bay Update
5th November 2018
A Forum held 28 October, facilitated by Libby Riches, updated the community on the progress that has been made by the three groups formed after Transition Town Apollo Bay was introduced in May this year. Those attending the May forum decided to focus initially on projects which help shape a socially, economically and environmentally sustainable community. There has been great progress in a few short months. Congratulations for hard work and the enthusiasm of those who have taken up the challenges facing Apollo Bay.
WASTE
This group divided its actions into these areas:
Commercial organic food waste and business advice
A successful "Pick My Project" grant will help develop a closed loop system for businesses to dispose of compostable green waste.
Educating and providing resources to local business on how to reduce plastic
A forum for Apollo Bay businesses was held to raise awareness of the need to control the amount of waste the business generates. On-going sessions are planned to help with practical solutions to identified problems.
Remakery and Tip Shop
To tackle the "throw away and get a new one" mentality The Remakery sessions started at the Farmers Market will help with small repairs. Larger repair jobs and remodelling furniture are ideas for the future. The Tip Shop could be a useful source of items that could be given a new lease of life.
Residents Reducing Waste
Check the useful tips published each week in the Apollo Bay News. Cut down single use plastic with Boomerang Bags and bring your own containers when purchasing dry goods from the Southern Otway Food Co-op.
Book exchange
Don't throw away books, leave them at the book exchange set up at the Information Centre and at Hello Coffee.
ENERGY
Regular meetings and an amalgamation with the pre-existing Apollo Bay Renewable Energy Group has led to the creation of the Southern Otway Sustainable Group. The group has a commitment to facilitate and implement a transition from fossil fuel-based energy to 100% locally generated renewable energy for the Apollo Bay region. Members of the group are currently researching other successful community energy projects. The group is planning to incorporate, establish a website, and hold a workshop for group members to establish direction and define clear goals. An important goal for the group is to bring what they have learned from their research to the wider community and engage with community members. Watch out for an "Expo" early in the new year.
ARTISAN COAST AND SKILLS REGISTER
This group has been meeting to clarify how the concept of the "Artisan Coast" can bring together the opportunity for people "who make things" to share in promotion, marketing and sales or services. Identified has been the links with Apollo Bay Arts Inc, the advantage of shared projects, and having a shared space to work and create alliances between the various skills.
Skills register
Development of a website as part of the publicity and promotion is underway. There will be further enquiries into setting up links with the Apollo Bay Chamber of Commerce.
Watch for on-going Transition Apollo Bay news and updates.
To keep in touch with what's happening with Transition Apollo Bay or to find out how you can be involved, send your details to This email address is being protected from spambots. You need JavaScript enabled to view it. to join our mailing list, "Like" our Facebook page @transitionapollobay, look out for us here on the Apollo Bay Community Website or in the Apollo Bay News.