7th May 2018
Results
Wed. 2 May - Men's 4-weeker Stableford - 4th round winners: Ken Johnson won with 43 points and runner-up John Nankervis scored 41 points. Alan Russ was nearest the pin on the 1st/10th hole. The 4-week winner was Don O'Meara with 113 points.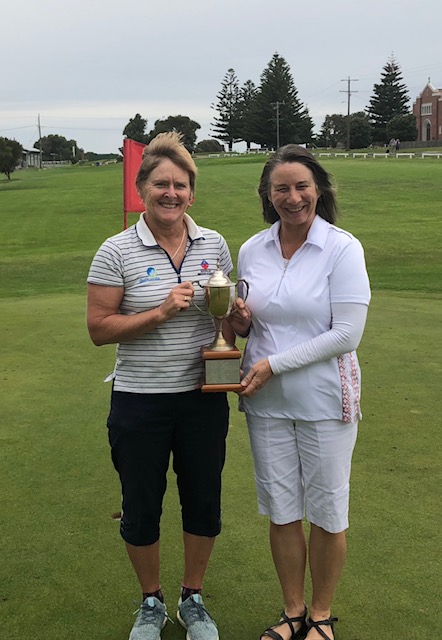 Thu, 3 May - Women's Championship Final round - daily result produced the following winners: In A grade (0-30) Stacey Thomas won with a score of 84-16-68 and Cheryle Polgeest was runner-up, scoring 99-30-69. B Grade (31-45) winner was Jeanette Dodds105-36-69 nett with runner-up Valerie Johnson on 106-33-73. Sandra Kent won the A grade putting with 26 putts and Valerie Johnson won for B grade with 29 putts.
Stacey Thomas scooped the pool with the best gross score – 84, the monthly medal and the chance to represent Apollo Bay in the Rene Austin Brooch. In the 9- hole event Kerryn Wagstaff won with 34 nett. Caroline Wren scored a spectacular Birdie on the 16th hole, which was described in minute detail during the presentations.
Congratulations to the following players on their great results. Apollo Bay Women's Golf Club Champion with 259 gross was Vicki Hannah. Runner-up was Stacey Thomas with 266 gross. (photograph Supplied) B grade Champion was Jeanette Dodds with 323 gross and runner-up Sami Oguzhan with 344. Putting during the championship rounds was won by Jeanette Dodds with 90 putts and Jeanette also won the Captain's trophy with 214 nett.
Fri. 4 May - SWGA Pennant played at Anglesea Apollo Bay was defeated by Anglesea 3/2. Vicki Hannah and Stacey Thomas won their matches and the other team members had close contests.
Sat. 5 May - Mixed 4 person Ambrose followed by dinner. Winning team: Joycie Henderson, Peter Collard, Scott and Jill Fowler with 63/52 1/8 nett and runners-up Debbie Biggs, Martha Macintyre, Stacey Thomas and Michael Hedger with 64/53 ½ . Nearest the pins 1st/10th Women: Stacey Thomas Men: Michael Hedger and on 9th/18th Women: Jenny McKeon Men: Peter Collard.
Sun. 6 May - SWGA Pennant round 7: Men's Division 5 Scratch Apollo Bay defeated Queens Park 5/2. Wins to: Andrew Hill 3/2, Don Wagstaff 6/5, Scott Fowler 5/4, Colin Coleman 2 up and Rocky Dimieri 2/1. The team finished 3rd at the end of the season, and lost out on a finals spot on a count-back of games won. Torquay: 25 ½ games, Geelong 23 ½ and Apollo Bay 22. Division 6 Handicap: Apollo Bay defeated St Leonards 4/1. David Wagstaff, 4/3, David Ivens, 4/3, John Nankervis, 4/2 and Bill Buckley 2 up.
Mon. 7 May - Women's 9 Hole Stableford - Played in gale force wind. Sandra Toone was the winner with 16 points and Debbie Biggs was the runner-up with 15 points.
Coming up
Fri. 18 May - A 2-course dinner comprising of soup and beef Bourguignon with mash will be held at 6.30. The cost is $10, please book with Helen 0417 305 618.
NEW PLAYERS WELCOME
New players are invited to join our Monday Women's competitions for $6 and clubs can be provided. Beginners are welcome. Hit off is 1pm, however, arrive at 12.15 to organise clubs, cards etc and register your name.