Apollo Bay Library
The new library is an amazing space and now has a public computer. Come and visit, Marion would love to see you.
6 Pengilley Avenue, Apollo Bay
(behind Marrar Woorn Neighbourhood House)
Phone: (03) 5237 1013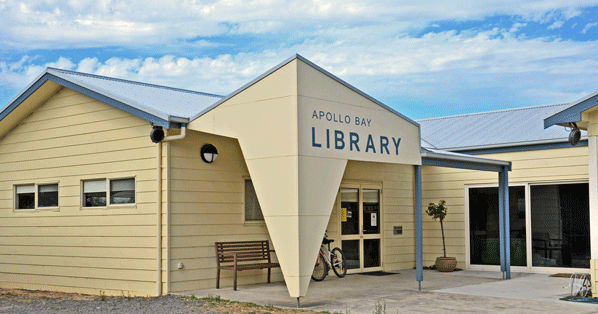 Email: This email address is being protected from spambots. You need JavaScript enabled to view it.
Website: crlc.vic.gov.au/branches/apollo-bay
Normal Opening Times
Monday
2.00pm - 5.00pm
Wednesday
11.00am - 1.00pm
1.30pm - 6.00pm
Friday
10.00am - 1.00pm
1.30pm - 5.00pm
Saturday
10.00am – 12.00 noon
Free WiFi – DVDs – Magazines – Talking Books - Kids
We now have E-books as well as E-Audio books
Public computer available
The Age and the Colac Herald
Children's area open when the Marrar Woorn House is open, for your family to enjoy the space and the books.
TumbleBooks
TumbleBooks is an online collection of animated, talking picture books which teach kids the joy of reading in a format they'll love. TumbleBooks are created by adding animation, sound, music and narration to existing picture books in order to produce an electronic picture book which you can read, or have read to you.
Reservations
Pop into the library and Marion will teach you how to explore the catalogue and make your own reservations OR visit our website to make your reservations.