Jennie Scott is Colac Otway's 2020 Australia Day Citizen of the Year
January 28, 2019
Inspiring local figure, Jennie Scott is Colac Otway Shire Council's 2020 Citizen of the Year.
Ms Scott has served the Colac Otway community for 50 years having given her time and skills to a diverse range of local committees, parish councils, local schools, sporting events and in providing support to local social organisations.
Ms Scott was one of five award recipients who received Australia Day honours at the ceremony at Beeac. The other recipients were Tyison Williamson and Mitchell Hall, joint winners of the Young Citizen of the Year Award, Beeac Red Cross for the Community Service of the Year Award and John Hutchinson, Sporting Service of the Year Award.
Mayor Jason Schram congratulated all who had received Australia Day honours, thanking them for their dedication to the community and welcomed those who became Australian citizens on Australia Day.
"Australia Day is a day for us to reflect on our heritage and the vibrant multicultural community we share.
"It's also a day when we focus on our Colac Otway citizens, to show our gratitude and acknowledge them for the positive contributions they've made.
"We've seen some great examples of the Australian spirit recently, with people coming together to support each other and help each other out in times of need.
"As a community, on Australia Day, we're given the opportunity celebrate that spirit by showing our gratitude to those who work tirelessly for our community, volunteering their time and skills through Colac Otway to make ours a great shire in which to live.
"We were also able to acknowledge and pay thanks to local Doctor, Michael Connor who was awarded the Medal of the Order of Australia (OAM) for service to medicine, and to the community.
"It was an auspicious coincidence that this year is the 50th anniversary of Dr Connor commencing his medical practice in Beeac, which made holding the Australia Day event in Beeac all the more special."
Cr Schram paid tribute to the Beeac community for their role and involvement toward an enjoyable Australia Day event in 2020.
"It was a great pleasure to work with the Beeac community in putting together this year's event, our events team very much appreciate the support and input from groups such as the Beeac Progress Association, Beeac Community Reserve, Beeac CFA and the Beeac Primary School," Cr Schram said.
This year's Australia Day event at Beeac featured an address by Member of the Order of Australia (AM) Steve Moneghetti, one of Australia's best-ever distance runners who represented Australia in four Olympic Games, four Commonwealth Games and six World Championships.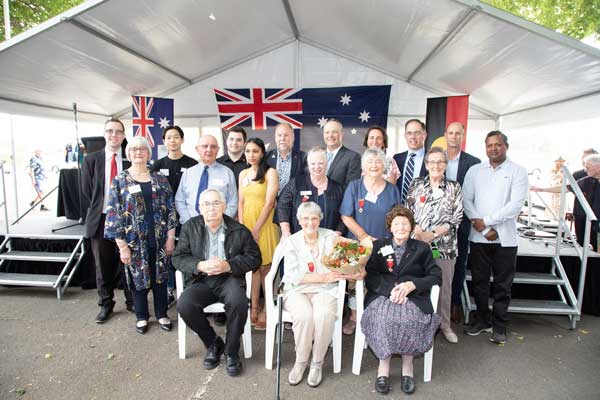 Council Enquiries
(03) 5232 9400 This email address is being protected from spambots. You need JavaScript enabled to view it.