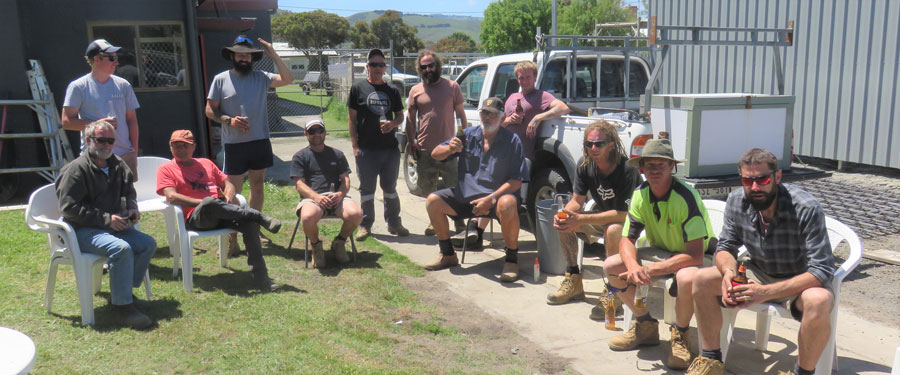 Apollo Bay Mens Shed News
18 November 2018
The Colac Otway Shire issued the Building Permit for the construction of the shed late in July. Damien Byrne (Pres) then set out the site levels. Dave Hannah and Red & Clint Telford came on site and did a great job on levelling and preparing for the shed.
Damien then set out the foundations and levels and in the second week of October Roger Browne with help from Greg Evans and Dan Matheson installed the shed foundations.
Damien with the help of Dav, Jack, Ian Begley and Brian McKenzie assembled the shed frames and cladding on the end walls. Damien then clad the eastern wall frame with the prescribed fire proof plaster board.
On the 7th Nov Damien, Dav & Roger with the assistance of Greg Mercer, Colin Schelfhout, Darren Gladman & Ian Begley and the loan of a crane and a scissor lift from Regional Constructions - Apollo Bay (courtesy of Stephen Toose) erected the two middle frames and west wall between rain showers. These were also braced. They then erected the eastern wall and attached the remaining roof beams.
On Sat 17th Nov Roger arranged for a team to install the main roof. The team consisted of Roger, Jordan, Pete, Darren, Greg M, Matty, Corey, Greg, Dave, Jason, Lozz, Luke, Bill and Dav. Work started at 8.30am and by 12.30am the team had installed the roof on the main building and by 1pm they had laid out the plastic sheet and reinforcing for the floors. They then enjoyed a barbecue and a beer.
Our thanks to all who gave their time to install the roof and to Matthew O'Leary Plumbing, Poo Fighters Plumbing, Peter Zeuschners Plumbing, & Corsa Electrics & Solar for providing the tools and skills to do the job and to Stephen Toose of Regional Contractors - Apollo Bay for providing a scissor lift to assist in the task.
Our thanks to all who have provided assistance in erecting the shed so far. When complete it will be another tribute to the community spirit of Apollo Bay and will we hope deliver a lasting benefit.
My apologies to anyone whose has given help but has not been recorded here.
Ted Stuckey