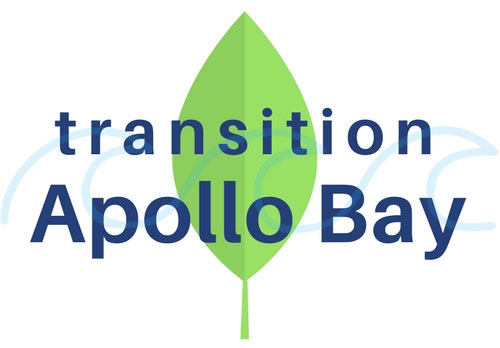 Transition Workshop: What's Next?
8th August 2018
If you came along to our Transition Forum back in May this year, you might recall that there were a number of topics discussed and voted-upon as possible Transitional projects for Apollo Bay.
We have now completed workshops for the first three – being Waste, Artisan Coast/Social Enterprise and Energy, but still have a range of fantastic ideas which could be substantially beneficial to our community.
If you'd like to be involved in any of the below projects, please get in touch with the organiser using the contact details listed. The Transition Apollo Bay Steering Committee will look forward to hearing an update from each group leader at our Open Meeting in October.
Community Skills Register – Bob Knowles
This email address is being protected from spambots. You need JavaScript enabled to view it.
A register of skills and the availability of volunteers in the town with specialist skills and knowledge.
Farming from the Sea – Markus Nolle
This email address is being protected from spambots. You need JavaScript enabled to view it.
Linked to the harbour, farming in the sea/ocean e.g. seaweed as food
Housing Sustainability and Affordability – Maddison Eltringham
This email address is being protected from spambots. You need JavaScript enabled to view it.
Lack of community housing is a gap in the town and many can't afford/access housing.
Reclaim Heathfield Estate – Carol Wilmink
This email address is being protected from spambots. You need JavaScript enabled to view it.
Heathfield Estate is 11.5 hectares and a public space run by Council. It is under lease to a farmer and the lease comes up in 2 years. What is the potential to reuse this for community again?
Knowledge Transfer – Mikhala McCann
This email address is being protected from spambots. You need JavaScript enabled to view it.
An education system to share and pass on knowledge and skills to the younger generation e.g. communications and involving the school
Local Production of Food and Fibre
This email address is being protected from spambots. You need JavaScript enabled to view it.
Meat, food and fibre production and processing locally.
Organic Agriculture – Stephanie Falconer
This email address is being protected from spambots. You need JavaScript enabled to view it.
To keep in touch with what's happening with Transition Apollo Bay or to find out how you can be involved, send your details to This email address is being protected from spambots. You need JavaScript enabled to view it. to join our mailing list, "Like" our Facebook page @transitionapollobay, look out for us here on the Apollo Bay Community Website or in the Apollo Bay News.