14th September 2020
Apollo Bay Covid Gigs Online
With over 3,900 views over 2 Facebook events and via our website, we can call Friday night's launch a massive success. We had 1,200 people watching together and the rest over the weekend. I'd like to say a massive thank you to everyone that joined in the love by watching, sharing, commenting and enjoying, all that feedback is so important to everyone involved in the production.
I would very much like to thank and congratulate all the musicians that took a punt on our production and shared their immense talents from not only the main location in Apollo Bay, but from various bedrooms, lounge rooms and studios across the State. Take a bow please Ella Summers, Cat Richardson, Jack Fillmore, Kata, Georgia Howell, Seamus Fillmore and Oscar Lalor.
Also I'd like to give a huge shout out and a massive round of applause also to music producer Matty Orchard and Jackson Hayat Films - I was totally blown away by the amount of hours they put in and the expertise they brought to the production. They created something beautiful to share with our community and they brought us together from locations near and far, some of us even shed a tear or two. Thank you also to Pete Mawhinney from Show, Don't Tell who filmed on location at the Apollo Bay Seniors Hall, he nailed the look and feel we were after and his input added an extra depth to the artist interviews.
If you haven't yet watched our gig, or want to watch it or share it again, it will be available forever for you to enjoy at www.mwnh.org and will be shared with local radio 3ABR later over the coming weeks.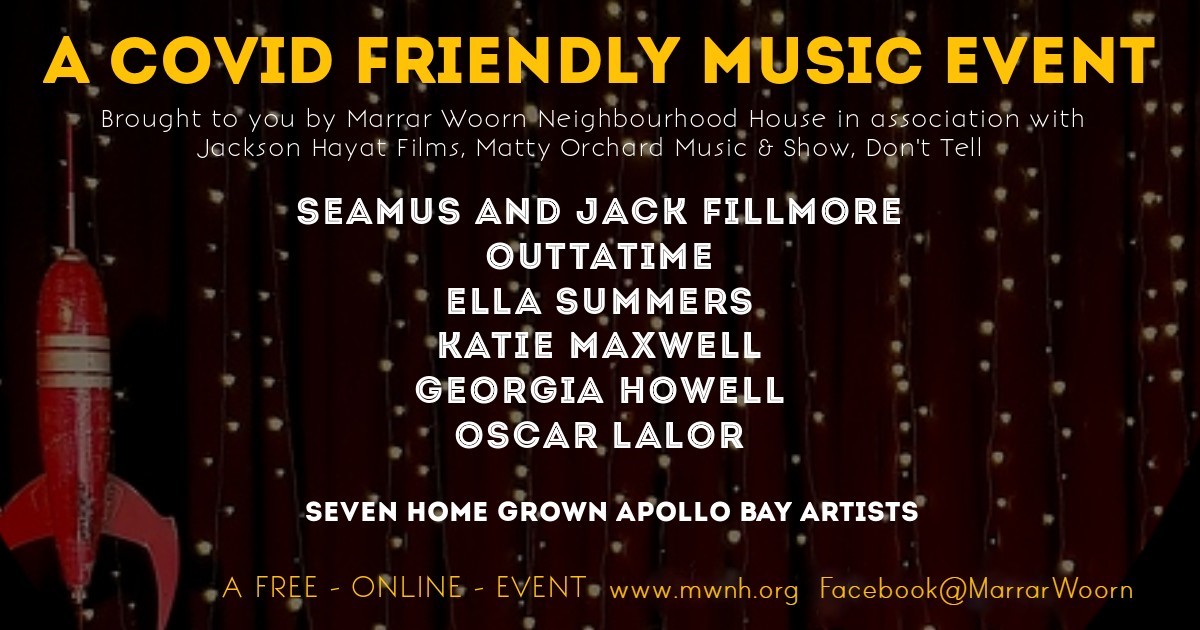 ****
Marrar Woorn Neighbourhood House
6 Pengilley Ave, Apollo Bay
Phone (03) 5237 8590
This email address is being protected from spambots. You need JavaScript enabled to view it. | www.mwnh.org
For more information, contact Otway Health on (03) 5237 8500.