Great Ocean Road Update
April 2019
ROAD STATUS: OPEN
The Great Ocean Road is OPEN to all traffic. Two lanes are available from Torquay to Allansford, except for short sections at Sheoak Creek, Smythes Creek, Wye River and Kennett River which are reduced to a single lane for stabilisation works.
CURRENT LANE CLOSURES
• Smythes Ck retaining wall, west of Skenes Ck - single lane 24 hours
• Wye River hillside erosion - single lane 24 hours
• Sheoak Ck to Skenes Ck rock fall netting - daily single lane closure
• Rock net cleaning - daily traffic management
• Asphalt works Aireys Inlet to Allansford - daily traffic management
• Cumberland River rock descaling - short road closures as needed
WYE RIVER
We are very happy to have Paddy's Path officially opened by Lisa Neville and the community in February and we thank locals for their patience over the last two years as we have worked to stabilise the hill.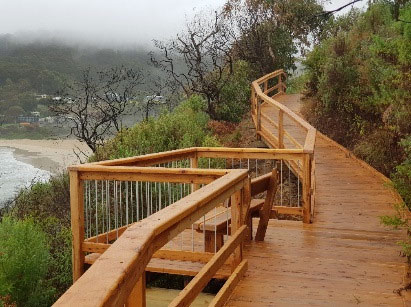 In the end, we installed over 2,000 soil nails each drilled to 7m into the hill, we installed steel mesh across the zone and then finished by building a timber pedestrian bridge to span the landslide area.
These works occurred through a true partnership between the community, Regional Roads Victoria and the Department of Environment, Land, Water and Planning.
Thank you to all the people in Wye and Sep Creek who contributed and showed great patience during this complex, two-year project.
We expect to start preparations for construction of the new Wye River bridge in May. We will provide the community with more detailed information on the timelines for the new bridge later in April.
CUMBERLAND RIVER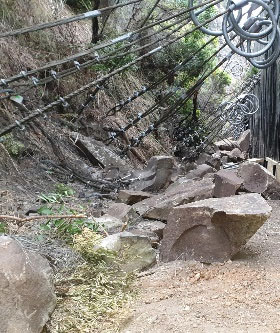 Have you caught a glimpse lately of abseiling crews high above the road at Cumberland River? These crews are descaling the cliff face, removing loose rocks and identifying other rock formations to be removed in future works.
This work will continue for six to eight weeks before larger rocks are progressively removed by using expanding grout and airbags.
Stabilising work at Cumberland River will take several months.
A wall of shipping containers, anchored to the lower cliff face by steel cables (above), is in place to catch falling material (the image at right shows the scene behind the shipping containers).
Two lanes of the Great Ocean Road remain open. You may experience 5-10-minute delays, when we are moving larger rocks.
SMYTHES CREEK
Work has begun on the construction of a 10m long retaining wall on the ocean side of the Great Ocean Road at Smythes Creek, west of Skenes Creek.
The wall will take four weeks to build. One lane is closed, and traffic lights are being used to manage the traffic flow.
HILLSIDE, WEST OF WYE RIVER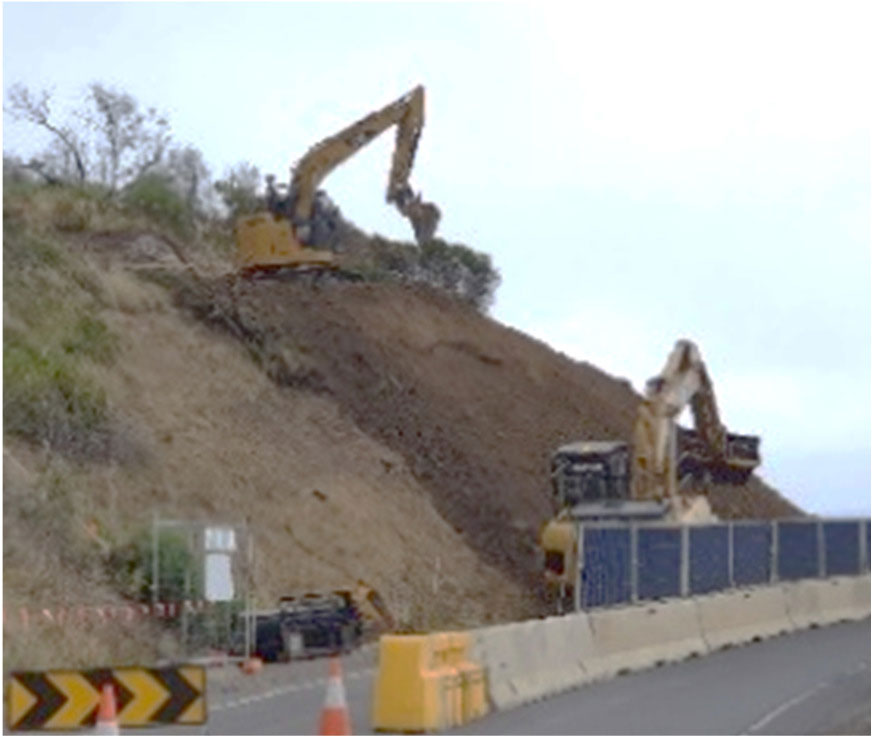 To remedy soil slumping above the Great Ocean Road 11 kilometres west of Wye River, we are using excavators to taper a hillside.
This work will stabilise an area that is 50m long and 10 metres high and has continued to slump after flooding rains two years ago.
Once tapering is complete, erosion control mat and steel mesh will then be installed. This work will be completed by the end of April. The Great Ocean Road is reduced to a single lane with traffic lights to manage traffic flow.
CLEAN UP
Over coming weeks, fallen rocks that have accumulated behind rock netting along the Great Ocean Road from Fairhaven to Kennett River will be cleaned out.
Sections of net that have been broken will be repaired. Work started at the end of March and will take four weeks. Traffic management will be in place at each location when there are works on site.
ROCK NETTING
We are currently installing steel mesh rock netting at 17 sites between Cathedral Rock, Lorne to west of Kennett River. We have completed sites at Reedy Creek, St George River and Sheoak Falls.
We have eight sites remaining between Sheoke Falls and Skenes Creek, and we expect work to be completed by mid-year.
The steel netting helps stabilise embankments and prevents rock falling onto the road. All sites should be completed mid-year. To keep everyone safe, we do need to close one lane during working hours.
ROAD SAFETY UPGRADE IMPROVES ANGLESEA ROAD
Road safety has been significantly improved with the completion of a $13.7 million project along 25km of Anglesea Road. This major tourist road has now been widened, had guard fence and safety barriers installed, new pull-over bays, speed lowered in Freshwater Creek and new line marking that includes audio tactile rumble strips in the centre and side of the road.
BETTER TRAVEL AND EMERGENCY INFORMATION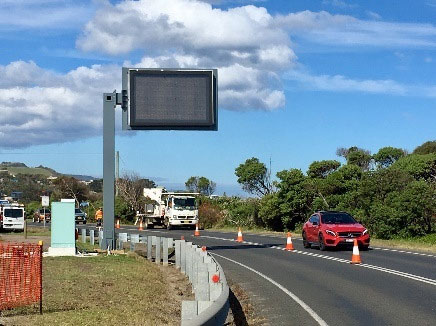 To provide better information to visitors and messages during emergencies, four electronic Visual Messaging Signs (VMS) signs have now been installed on the Great Ocean Road at Port Campbell, Skenes Creek, Lorne and Mt Duneed.
The signs are scheduled to be activated by Easter to display travel time advice.
Two further signs are planned for Bellbrae (April) and the east side of Lorne.
ASPHALT WORKS
In recent weeks, we have resealed five sections of the Great Ocean Road between Princetown and Nirranda, five sections between Port Campbell and Allansford and two sections between Aireys Inlet and Fairhaven.
From Skenes Creek to Princetown, 11 areas will be resealed in the next three weeks. Minor patching works, before resealing, are underway between Lavers Hill and Moonlight Head.
These works are part of our annual road resurfacing program and are essential to take advantage of favourable seasonal weather in this area.
Traffic controllers will be in place to manage traffic flow during works.
ROCK ARMOUR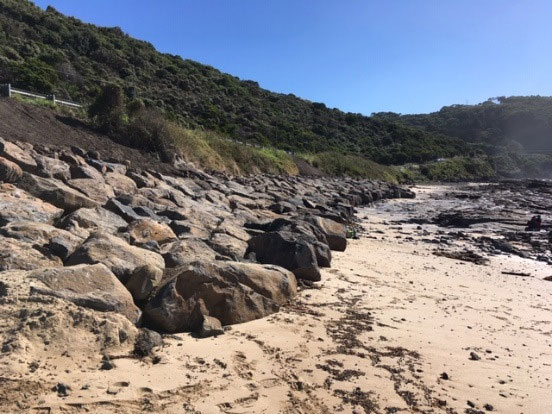 Crews have now completed building a 70m long rock armour wall at Smythes Creek (right).
Three more walls are scheduled for construction just east of Kennett River, beginning late April and extending to July. One lane of the Great Ocean Road will be closed at each site during construction.
To date, five rock armour walls have recently been constructed on the shoreline at Apollo Bay, Skenes Creek, Von Mueller Creek and Smythes Creek to prevent the coastal elements impacting the tourist road.
MOGGS CREEK BRIDGE REPLACEMENT
We are beginning to prepare for the removal of the pedestrian bridge and installation of the temporary Bailey Bridge, as part of the construction of a new bridge at Moggs Creek.
The current bridge is at the end of its design life and with much larger vehicles now on the road, we need to build a much stronger bridge.
Traffic will use the Bailey Bridge so that we can build the new bridge in the same position as the existing bridge, this has enabled us to minimise impact on the sand dune and river environment.
Site preparations will start in mid-April.
GOT A QUESTION?
We welcome your feedback, thoughts, ideas and comments.
Email This email address is being protected from spambots. You need JavaScript enabled to view it.