Stabilising Paddy's Hill – VicRoads May Update
May 12, 2017
Retaining wall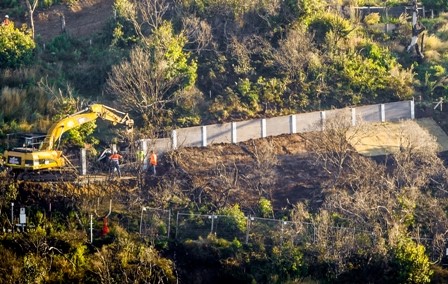 The 36m retaining wall above Paddy's Path and below 24 and 25 Iluka Avenue has now been completed and the temporary access track from Wallace Ave has been remediated and hydro seeded.
This enables work to proceed on the preparation of the hillside in the landslide zone for soil nailing.
Vegetation removal
Crews have been on the hillside this week removing dead trees and trimming vegetation.
The area will next week be surveyed and marked out for mobile soil nailing rigs to be moved on site.
The rig operators will abseil their equipment across the hillside, covering an area between the upper retaining wall and the roadside.
Soil nailing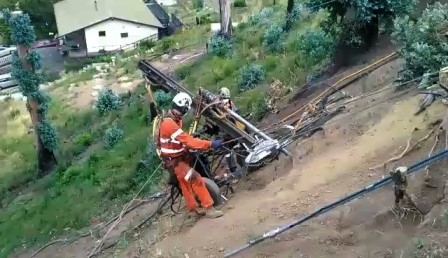 Soil nailing involves the drilling of 300 bores, each up to 8m deep, and the insertion of steel rods anchored into the hillside with a ceramic mix.
Sheets of steel mesh are then fastened to the rod heads to lock down the hillside. Erosion control matting will be used on exposed surface areas.
This section of the hillside project is expected to be completed late June.
The 75m roadside retaining wall, the 36m upper retaining wall, soil nailing and steel mesh are combined geotechnical works designed to stabilise the Paddy's Path hillside and protect the Great Ocean Road from risk of further landslides.
Stabilisation
VicRoads is also exploring stabilisation options for a second section of the hillside east of the newly constructed lower retaining wall.
Work on this 60m x 6m area, below 21 to 23 Iluka Avenue, is scheduled to follow, after current works are complete.
Planting
Both areas will be fully remediated. The community has already chosen a selection of plants for the project. Replanting will occur as soon as the technical work is complete.
Slip zones
We want to thank motorists for their patience during the laying of new kerb and channel along a 300m ocean-side section of the Great Ocean Road at Separation Creek. The work was completed this week.
We're also working on more than a dozen minor slip zones along the Great Ocean Road between Wye River and Kennett River.
This stabilisation work involves hillside contouring and the installation of erosion control matting and coir logs above the slips. All areas will be hydro-seeded. Four sites have so far been reshaped and two sites covered with environmental matting.
Running Festival
Temporary road closures and detours will be in place on the Great Ocean Road on Sunday, May 21, for the Great Ocean Road running festival.
Almost 5000 runners are expected to take part in the ultra marathon, marathon and half marathon events between Lorne to Apollo Bay.
The Great Ocean Road will be reopened progressively for east-bound traffic, from Kennett River to Lorne, as runners pass.
A significant number of runners and spectators are expected to be in the area for the weekend of running events.
Further information at www.greatoceanroadrunfest.com.au.
Get in Touch & More Information
VicRoads has a designated webpage for Great Ocean Road landslide information and traffic conditions.
To sign up to our E bulletin distribution list email This email address is being protected from spambots. You need JavaScript enabled to view it.
Up to date information can also be found on the VicTraffic website and app or by calling 13 11 70.
If you have a question, or want to find out more we would love to hear from you. Email: This email address is being protected from spambots. You need JavaScript enabled to view it..