Great Ocean Road - November Update
November 10, 2017
Road Status
The Great Ocean Road is OPEN to all traffic. Two lanes are available along most of the tourist road from Torquay to Allansford. Temporary traffic management is in place at works areas in some locations.
The Great Ocean Road is reduced to one lane at only three locations in this area - at Separation Creek, Monash Gully just west of Wye River and at Grey River where we are constructing a new bridge.
Paddy's Path
VicRoads, DELWP and Colac Otway Shire met last week to identify works to be completed to ensure Paddy's Path is open for the Christmas/summer holiday period.
The three agencies aim to reopen the path to the Wye River and Separation Creek communities the week before Christmas through to Sunday, February 4, 2018.
Work will then resume on soil nailing a strip of the hillside from the bottom retaining wall on the Great Ocean Road to Stanway Drive, Separation Creek.
We would also then aim to reopen the path at weekends, from Friday afternoons to Monday mornings. For the safety of all, it is imperative the public remains off the path while works are in progress and construction teams and their equipment are working on the pedestrian link.
VicRoads staff and contractors will minimise road works in the Wye River area between December 22 and February 4, during the peak summer holiday season to aid holiday traffic.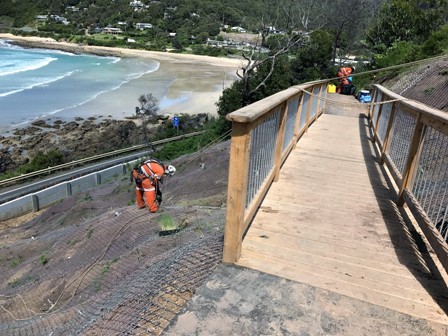 Replanting the Paddy's Path landslide zone is almost complete. (See image) Crews have been planting more than 3000 native plants on the hillside.
Retaining Walls
Work is progressing to schedule on retaining walls west of Stanway Drive on the ocean side of the Great Ocean Road. One 3m concrete wall is complete. The other is now 80 per cent complete. Landslide works at both locations are due for completion mid to late November.
Work began today at another landslide east of Separation Creek on the ocean side of the Great Ocean Road. This 10m wall will be complete mid December.
Erosion Control
Work to stabilise up to 50 landslide sites between Jamieson River and Kennett River is nearing completion.
Work also continues on six cliff faces that require rock fall netting in the Kennett River area with completion expected mid to late November.
At Big Hill, just east of Lorne, 360m of cliff face has been devegetated, anchors installed and about 60 per cent of rock fall netting has been rolled out, with completion scheduled mid to late November.
Drone Monitoring
VicRoads will next week conduct aerial inspections of the Great Ocean Road with drones.
Weather permitting, the flights will be conducted between Wednesday, November 15, and Friday, November 17.
The flight zones are at Anglesea, Lorne, Wye River and Kennett River.
VicRoads is using drones on the Great Ocean Road to inspect any deterioration in the geotechnical landscape and to identify the impact of natural drainage flows and ground movement.
Intermittent road closures, of up to 10 minutes, will be in place over short distances at up to 15 flight sites.
Grey River
Work is progressing on a new bridge at Grey River, east of Apollo Bay. Work crews have completed boring piles into the rock bed on the west side of the river. One lane of the Great Ocean Road is temporarily closed for earth works on the approaches to the new bridge. Traffic management is in place.
Apollo Bay
Work is progressing to schedule on the reconstruction of the Great Ocean Road in Apollo Bay, between the golf course at Nelson Street to the Barham River bridge.
Kerb, channel and footpaths along both sides of the road are almost complete. About 400m of roadway is now ready for asphalting. The job is scheduled for completion early December. Traffic management is in place.
At Princetown, 7km of road reconstruction work is progressing on three sites on the Great Ocean Road, 15km east of Port Campbell, near Princetown.
Repairs to the Skenes Creek bridge were completed on October 18 and the walkway reopened to the public.
Great Ocean Road Guard Rail
Work starts on Monday on repairing sections of existing guard rail and installing lengths of new rail over various distances, totalling about one kilometre, between Kennett River and Jamieson River. There will be minor interruptions to traffic at these work sites. Work is scheduled for completion in four to six weeks.
Childers Cove
Rehabilitation of the Great Ocean Road east of the Childers Cove intersection at Narrana, 36km east of Warrnambool, is underway.
These works are part of the $3.6 million upgrade project to address a history of run-off-road, rear-end and other crashes at the intersection of the Great Ocean Road, Childers Cove Road and Mathiesons Road, between Peterborough and Allansford.
About 1600 vehicles travel on this section of the Great Ocean Road each day. The project involves upgrading the intersection and resealing the road surface. A T-intersection will replace the current two Y-intersections.
Traffic management will be in place for the duration of the project.
Colac-Lavers Hill Road
Works to construct a new 50m retaining wall on Colac-Lavers Hill Road, about 5km from Gellibrand, will begin on Monday, 13 November. During a geotechnical assessment, one traffic lane has been closed with temporary traffic lights installed to ensure the safety of all road users.
VicRoads will stabilise the site by digging out the loose material and road base. A new 50m retaining wall will then be built using steel posts and reinforced timber barriers.
Once the new retaining wall is in place, we will repair and resurface the damaged section of road and restore the speed limit to 100kmh. Construction should be completed by the end of this year.
Anglesea Road Safety
To improve safety on the Great Ocean Road between Forest Road and Coalmine Road, we are installing a wide centre-line rumble strip treatment. The strips will be installed on the centreline and roadside edge in both directions.
The works along 800m of the Great Ocean Road, in partnership with the Transport Accident Commission, will occur over three days including Wednesday and Thursday, November 22 and 23, and on Tuesday, November 28.
VicRoads regional director Mark Koliba said the new linemarking will create a wider centre-line treatment and provide additional separation to traffic travelling in the opposite direction.
"This feature will greatly enhance safety conditions on a short section of winding road that is known to carry heavy holiday tourist traffic.
Get in Touch & More Information
VicRoads has a designated webpage for Great Ocean Road landslide information and traffic conditions.
To sign up to our E bulletin distribution list email This email address is being protected from spambots. You need JavaScript enabled to view it.
If you have a question, or want to find out more we would love to hear from you. VicRoads appreciates feedback and comments from the community. Email: This email address is being protected from spambots. You need JavaScript enabled to view it..