Apollo Bay Sailing Club
Tell Tales
28th January 2019
On a day like Saturday, with its light S.Easterly and gentle swell, it is easy to forget that you are sailing out towards the great southern ocean. This has been a very consistent and enjoyable season.
Jade, Andrew and Russ took on the task setting a port course, trying to excite the less than enthusiastic bunch, given the light forecast. Six knts is not enough wind usually to excite but with an unusually calm surface there is always the chance to get more out of your boat than seems possible. Patience and concentration are usually rewarded on light days. And the decision to just run three triangles worked well.
For the keel boats it was a great opportunity to fly their spinnakers without much possibility of any damage to gear. And days like this are perfect for crews to get some much needed practice hoisting and dousing these enormous sails. Watching 40ft boats being pulled gently forward under silk it is easy to think that all is under control. But when you see a 40 footer dragged nose first into the water by a snagged or out of control spinnaker in a strong breeze you realise the gigantic forces at play and how important it is to have the crews understand just where those forces are and how to manage them.
Boheme took the lead early and as has happened many times this year it was left to Its Magic to try and overtake. The light breeze may have favoured the older, more traditional hull shapes as B'me and IM seemed untroubled by the light but consistent breeze. But as for newer shaped boat like Wildrose and Ten+One there might not have been enough wind to reduce their wetted area and they suffered from a bit of extra drag perhaps? Every boat design sails differently, each have their strengths to exploit and weaknesses to manage.
The small boats had a fun time. The right hand side of the first upwind was where the fleet was split in two, with Affrodite, Ziff, April Dancer, Sirocco and Trading Post advantaged by getting over on port early. Affrodite sailed a great race and Ziff and April Dancer just could not head her off. Back in the second tier The two Ynglings were having a good day. Geeks was crewing Trading Post for Michele and Pam who flew the spinnaker all day and were hard for the ff's to chase down. Community Bank stayed in the mix and did well considering the wind was certainly on the lower end of a Yngling's range. Croc took his boat FernElisabeth out solo and did a wonderful job staying so much in the race. Not able to fly his spinnaker may have disadvantaged him but not carrying an extra crew on such a light day payed off. The second reach became too shy for the spinnaker and a few of the boats persisted longer than they should have. Shiralee flew her spinnaker all day to great effect in only their first season.
| | | | |
| --- | --- | --- | --- |
| | Handicap | Dingy YS | Keel YS |
| 1st | Affrodite | Affrodite | Boheme |
| 2nd | Trading Post | Ziff | Its Magic |
| 3rd | Ziff | Sirocco | Ten Plus One |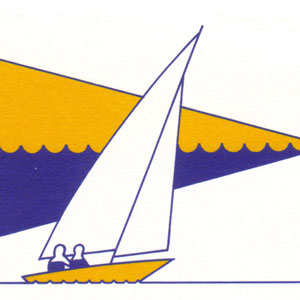 Life is good. Come Sailing!
To find out more see our website www.apollobaysailingclub.org.au or our Facebook group - Apollo Bay Sailing Club