Apollo Bay Sailing Club
Tell Tales
4th November 2017
With the gales of winter past and the hint (but only a hint mind you) of summer in the air, the 2017/18 sailing season opened with a prevailing 15-20 knots of south-westerly over a cold, lumpy ocean. After a very productive working bee last weekend, followed by party-time (aka paella night) at the Goodison's, spirits were sky high and it was time to start sailing again. Ten yachts braved the chilly conditions.
The keel boat start saw 10+1 take advantage of their dominant positioning on the start line to force Wild Rose to tack away at the last second. 10+1, skippered by Regan, had by far the best start and went on to record a convincing line honours victory. It's Magic and Wild Rose had a close tussle all day with It's Magic having 'the magic' and the narrowest of wins in the end. 2016/ 17 season handicap champs Interlude had a pretty tidy start and race but a very weedy bottom (on the boat presumably) made it hard work. Let's hope they are not in for a "Western Bulldogs" kind of defence of their championship!
The dinghy start saw Miss Molly start on port (a risky strategy as starboard has the right of way) that paid off by having them cross in front of the rest of the dinghy fleet. Affrodite managed to round the top mark first by the merest of margins, but a rushed and untidy tack by Affro saw Miss M slide on by to gain a very handy break on the first reach. Miss Molly went on to have a convincing 'dinghy division' victory. Though some lovely spinnaker work by Affro could have almost stole the win. Ziff welcomed new crew Tam on for her first race ever and April Dancer got themselves in the placings. Club boats Community Bank and Trading Post had a real battle going on for their very own race with Croc and Jonathon (CB) just squeezing out Stephan and Karlijn (TP). Both boats have had the once over during the off season with a bit of rig tuning and no doubt we will be in for many more close encounters this season.
The race was followed by the first of our Fundraiser BBQ's which was well attended by members and friends of ABSC and it was a great success. We especially appreciate the generosity of the Apollo Bay Fisherman's CoOp for their very generous donation of fish, some fresh produce from Garden of Eden, Smithy's eggs and the wonderful salads donated by Café 153.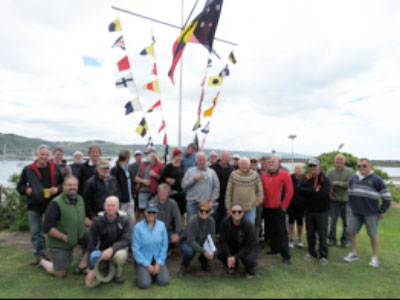 Heat 1 Waterfront Motor Inn Pre Xmas Series
Heat 1 Café 153 Club Championships
Handicap
1st 10+1
2nd Wild Rose
3rd April Dancer
Yard Stick
1st Miss Molly
2nd Affrodite
3rd April Dancer
Thanks To Our Sponsors
Apollo Bay & District Community Bank, Great Ocean Road Trading Post, Waterfront Motor Inn, Café 153, The Fishing Co op, Surf-n-Fish, J&C Marriner Earthworks

Life is good. Come Sailing!
To find out more see our website or our Facebook group - Apollo Bay Sailing Club