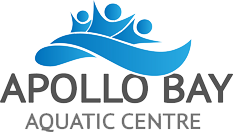 Aquatic Centre News
17 December 2018
Great to see so many children swimming on Monday in the heated pool! Thanks to Brian Humphries for making it possible.
SUMMER OPENING HOURS
The Council & Bluewater Fitness will continue to operate the pool until it is enclosed and fully functional.
December

Friday

Saturday

Sunday

January

Daily

February

Saturday

Sunday

3pm – 6pm

11am – 6pm

11am – 6pm

11am – 6pm




11am – 6pm

11am – 6pm

(TRIAL to assess usage)

If Fridays in December are well used then it will be extended into February.
Plans are to be submitted to the Colac Otway Shire Building Surveyor very soon with the view to start building the pool enclosure in March/April. We are aiming for a grand opening of the indoor centre about July 2019.
Thank you to the Tanybryn Social Club for their recent donation.
Please bank your pledge now into Bendigo Bank account Apollo Bay Aquatic Centre Inc Fundraising BSB 633000, Acc No 149612657 or in person at our Community Bank. Remember to include your name or organisation name with your deposit.
Enquiries: Jane (03) 5237 6335 or This email address is being protected from spambots. You need JavaScript enabled to view it.