Work starts on Apollo Bay Skenes Creek Trail
17 September 2017
Despite torrential rain, work started last week on a study into the Apollo Bay Skenes Creek Trail.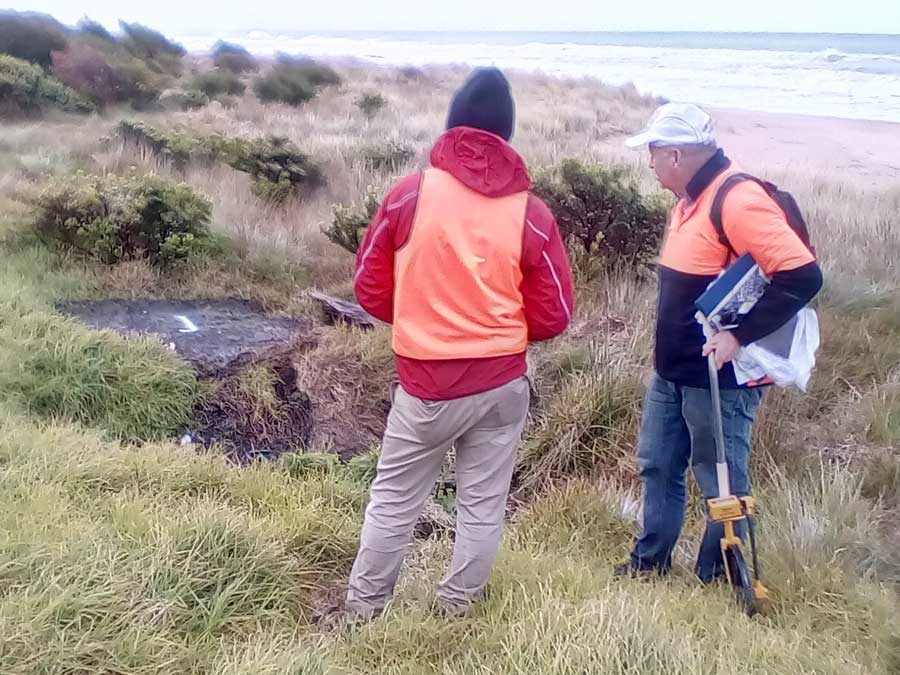 Marking and measuring the proposed trail route
Mike Smith & Associates have been appointed to ascertain the feasibility of building an outstanding scenic shared cycle and pedestrian trail from Wild Dog Creek through to Skeenies. The team were on site last week checking out the best route options and potential engineering solutions to ensure that the trail will withstand erosion risks and respect valuable flora and fauna.
The team includes geology, indigenous heritage, fauna and vegetation experts as well as engineers and landscape architects. The study will examine the benefits the trail will provide to the local community and tourism industry and also assess construction and ongoing maintenance costs.
The project steering committee is chaired by Apollo Bay Chamber of Commerce and includes Sport and Recreation Victoria, Otway Coast Committee, Colac Otway Shire and the Skenes Creek Advancement Association all of whom have contributed funds to the cost of the study.
Input from the community is a vital part of the study and consultation sessions will be scheduled very shortly – watch this space! Or join facebook group 'Apollo Bay Skenes Creek Coastal Discovery Trail'
John Riches, ABCC
Graham Costin, OCC
Tim Cobb, SCAA
See more about the trail here and on Facebook.