Apollo Bay Real Estate Report
There's often much speculation about the sale price of property in and around Apollo Bay.
The fact is, sale prices are a matter of public record. Here's a round-up of 2013. We look forward to sharing more of this information as it comes to hand.
2013-14 Property Sales - updated March 2014
Great Ocean Report - February 2019
We have been enjoying one of the best Summers, weather wise, on record and the love for our beautiful coastline is at an all-time high. Many of the Surfcoast traders are reporting their best Summer ever due to the consistently high numbers of visitors drawn by the beautiful weather. The coastal real estate markets have been active but not immune to the negative sentiment witnessed in the metropolitan markets towards the end of 2018. Price points below $1m have remained incredibly active but we have witnessed more caution in the higher end. This is also a reflection of what has occurred in the metropolitan markets.
Having said that we are very proud to announce that we have just set a new Surfcoast record with the sale of the stunning property at 2 Ocean Boulevard Jan Juc. The final price is undisclosed but sold within the advertised $5,250,000 - $5,750,000 range. We have also recorded two sales in the $1.5m to $2m range in Aireys Inlet and Fairhaven.
In the main though most of the activity has been below $1m. As an example, our Apollo Bay office has sold 10 properties in January with only 1 over $1m, and our Anglesea office recorded 10 sales in January as well, 8 of which were below the $1m mark.
When property markets face sentiment challenges, it is always fascinating to us how some potential buyers get caught up in a purgatory state of mind between wanting to proceed because they are in a position to do so, and nervous because some of the herd is sitting on their hands. Main stream media have continued their role as purveyors of potential misery, and we understand how some buyers become reluctant observers. We also understand that some have struggled to get credit because of tighter lending standards, but for those who are able to proceed, many of the challenges they face are purely psychological.
To assist them through this we ask them several questions to help them make a decision:
Are you in a position to proceed right now financially? Answer is usually yes.
Is your employment or financial position likely to negatively change in the near future? Answer is usually that it is unlikely.
How long do you intend to hold the property? Answer is usually that they intend to hold it as a long-term family asset.
Are you getting any younger? They usually laugh.
Are you aware of the supply and demand fundamentals of the Great Ocean Road market? We then show them the following graphic. They usually have no understanding of these at all.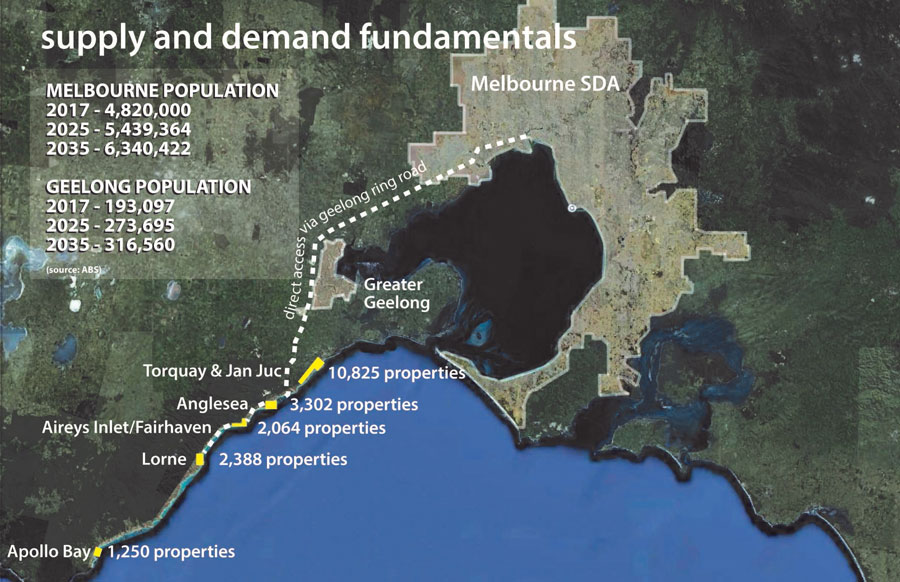 Real estate is a supply versus demand equation simply because they are physical assets. Unlike the share market, they cannot suddenly disappear. The buyers are often caught up in the paradox of having a short-term view of a long term asset. The fundamentals of the Great Ocean Road property market are incredibly strong due to the very limited supply of the towns and the increasing populations of Melbourne and Geelong, which is where most of the buying demographic originates from. The Great Ocean Road towns have minimal room to grow due to natural or regulatory boundaries, yet the populations of Melbourne and Geelong continue to grow rapidly.
According to the Victorian State Government projections, Melbourne is set to become Australia's largest city by the middle of this century with an estimated population of over 7 million people by 2041. Weigh this against the number of total properties in the Great Ocean Road towns and you can see why short-term hesitancy to commit because of current sentiment, by those that would really like to, is so illogical.
As you can see in our graphic, Aireys Inlet and Fairhaven only have 2064 properties, Anglesea has 3302, Lorne has 2388 and Apollo Bay only has 1250 rateable properties including commercial properties. Even Torquay and Jan Juc, who have seen significant growth, is currently having its town boundaries reinforced by the recently re-elected Labour government.
The simple message to those considering buying or trading up on the coast (we have seen a lot of upgrading in the last two years), have the means to do it, have a medium to long term view of ownership and just simply want to get on with their lives, is proceed with confidence. The interesting thing is that if we asked buyers to list and rank all the reasons why they want a property on the coast, for most capital gain would not even be in their top 5.
We hope you found this informative and if we can be of assistance in any real estate matter please do not hesitate to call.
Written by Marty Mahar, Director Great Ocean Properties
It's good news week – Key reforms to streamline bushfire regulations!
5th June 2014
Many of our local land owners in high bushfire risk areas will be relieved to learn the Planning Minister Matthew Guy has adopted reforms which now may enable people to build on land with a higher Bushfire Attack Level (BAL) rating. This is particularly relevant to landowners in Kennett River and other local high fire risk areas that have not been able to secure building permits although their blocks have been surrounded by neighbouring houses.
Key features of the reforms include:
• Allowing private bushfire bunkers as an alternative safety measure, where there may be increased bushfire safety risks that need additional consideration;
• Allowing vegetation clearance to achieve defendable space. The cleared area around a home is vital to protecting the home's occupants. Vegetation clearance obligations ('defendable space') would be limited to the title boundary of the relevant property;
• Ensuring the assessment of bushfire risk is consistent with the Australian Standard;
• Allowing more sensible bushfire safety measures in new master-planned estates; and
• Allowing homes to be built on 'infill' lots surrounded by other dwellings. Where a dwelling is allowed, it will be able to be built with a fair and equitable bushfire response.
• A new $700,000 assistance fund will enable affected landowners and councils to streamline planning processes.
Cate Thomas
Great Ocean Properties
Ph. 0458 586 540
Property sales data is provided by the data analysis group REALM. The information is derived from other publicly accessible (historically reliable) websites, is considered comprehensive & accurate, but the Apollo Bay Community Website accepts no responsibility for errors or omissions. Where no figure is provided, confirmation from Victorian Valuer General records not yet available. REALM welcomes queries, factual information about property sales and requests for data or analysis from this or other areas. Contact Realm by This email address is being protected from spambots. You need JavaScript enabled to view it..
REALM Property Sales Data is a Community Website Sponsor
This page is proudly sponsored by